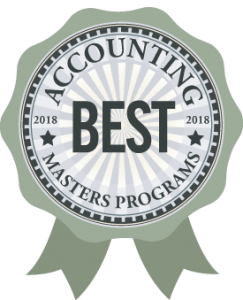 "Whether you just wrapped up your bachelor's program, or traded your backpack for a briefcase years ago, heading back to school for a master's in accounting means preparing to take on additional debt and bracing for a schedule that leaves very little room for me time for the next year or two. This kind of investment in time and money is all about setting yourself up for the CPA, and at the end of it all, a bigger paycheck.
There's other ways to get to the 150 credits you need to meet the basic education requirements for the CPA, but a master's is still your best bet in the increasingly complex world of accounting where globalized standards, more regulation, and significant advances in technology are changing the game from one year to the next. You already know that you're going to be expected to be a whole lot more than a clever number cruncher once you find yourself in the upper echelon of the profession— an expert in finance, taxation, auditing, and business, is more like it.
From MBAs with an accounting focus to the M.Acc. to MS degrees in Accounting, to graduate certificate programs designed specifically to get the additional advanced coursework you need to be CPA-eligible, grad programs in accounting aren't in short supply. But you're looking for more than just a piece of paper; you need a degree that's worth the late nights, and the price tag.
<!- mfunc feat_school ->
How We Made Our Selections
Empty claims and slick marketing campaigns don't impress us—it's the hard numbers we're after. That's why we went directly to NASBA's Report on the CPA Exam, University Edition for some iron-clad metrics to tell us which programs are turning out graduates that have the accounting chops to show the CPA Exam who's boss. There's really just one number that seems to say it all— the first-time pass rate among CPA Exam candidates that completed the program.
Passing the exam on the first try is no easy feat. Nationally, some 80,000 candidates take the exam every year according to the most recent data, and just around 50% are able to get the job done. Any school turning out exam candidate cohorts with pass rates north of this are worth a closer look.
Using NASBA's findings, we assembled our list by simply identifying the single top performing graduate school in each state according to first-time CPA exam pass rates. Regardless of where you might live, you'll be able to find the school that came out on top. In most cases, the programs that made our list came in well above the national average, and some so high even we were impressed. We feel like it's important to consider any school with extraordinary results in this category, so in the states where more than one school was associated with a student success rate above 80%, we were sure to give them the shout out they deserve, too.
We know there's other things you'll need to consider when selecting a program that works for you, so we went a step further and answered the most common questions about things like course delivery options, experiential learning opportunities, career services, and cost for each school we feature. Plus, we were sure to call out any accolades that made the program stand out from the competition for more than just the CPA Exam first-time pass rate.
<!- mfunc search_btn -> <!- /mfunc search_btn ->
The Very Best Master's Programs for CPA Exam Candidates by State
Here's the master's programs in accounting in each state doing the best job of preparing graduates for the Uniform CPA Exam. They've more than proven themselves worthy of recognition— and your student loan dollars.
This list features programs that our editorial staff hand selected to present as top recommendations. We believe the many aspects of a program that come together to create an exceptional student experience can't be reduced to numbers alone, so no formula was used to attempt to score or rank these programs. Instead, they represent our top picks based on a thoughtful review of the things we know mean the most to students. Each one of these programs offers something unique, and all come equally highly recommended. We stand behind the principal of editorial integrity and make these recommendations independently and without compensation.
There are no listings for Alaska at this time.