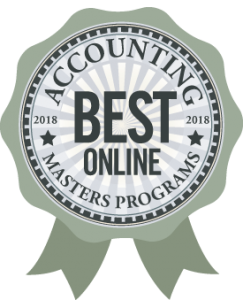 Passing all four parts of the CPA exam on the first attempt says a lot about every candidate who accomplishes it, but it also says something important about the school that prepared them for the challenge. The Uniform CPA Exam is no cakewalk and intelligence alone won't get you through it… you absolutely have to have a rock-solid education in the principles of accounting to get through those 16 grueling hours of testing and come out on the other side with that sweet calm that comes when it's all over and you feel good about how you did.
For anybody with big plans to get that most prized of all credentials, passing the exam is the one thing you absolutely need to be thinking about when considering options for an online accounting master's program. One of the best ways to gauge if a program has what it takes to get you there is to look at the first-time pass rate for previous exam candidates that graduated from that program.
The National Association of State Boards of Accountancy knows this and puts in the time and effort every year to compile exactly that statistic, logging exam scores and pass rates for every single exam-taker in the country, then tracking that information back to the master's program each one of them graduated from. Their latest compiled report on the results, covering the 2016 exam series, ties in to each of the programs we evaluated.
For that year, the national average rate was about 50 percent for the nearly 80,000 exam candidates who passed on their first attempt. You'll find that every program here beats that number by a comfortable margin, and often by double digits.
We've ranked the Top 15 online-only graduate accounting programs in the country according to that statistic here for your convenience, but we know there's plenty more you need to consider before laying down dollars for a master's.
<!- mfunc feat_school ->
Looking Past The Pass Rate
We're well aware that online programs have a different set of criteria to check out and evaluate than traditional programs. We took a look at all of the most important aspects, including cost, technical aspects of the online teaching platform, job placement and career services, post-graduation employment rates, and opportunities for peer-to-peer and instructor interaction.
Online programs have an uphill battle to fight in many of those areas, but if they are achieving high pass rates on the CPA exam, it's a good sign that they've nailed the challenges. Nonetheless, we give you the low-down on all the elements of an entirely online program that need to be considered in the decision-making process.
One of the best things about each of these schools is the very fact that they are offering these programs online. The overriding concern for most students is whether or not they will be able to get into a program that is close enough to attend in person, or whether they will be forced to relocate and have to deal with the difficulty of moving, and the potentially higher costs of out-of-state tuition. In a lot of cases, outcomes end up taking a back seat to practicality.
Online programs throw all those issues out the window. You can attend the finest program in the country without leaving your kitchen table, if you want. All the advantages that these top-ranked programs deliver are open to anyone, anywhere, as long as you can afford the tuition.
Better yet, you usually have the option to take courses at your own pace and consume class content at a time and place that is most convenient for you. For working professionals, this is an enormous advantage.
The 15 Best Online Accounting Master's Programs in the Nation
Whichever of these schools you choose, you can be assured that you'll get not only all the advantages of an online degree program, but also superb preparation for the ultimate prize that comes at the end of all that hard work: your CPA license.
This list features programs that our editorial staff hand selected to present as top recommendations. We believe the many aspects of a program that come together to create an exceptional student experience can't be reduced to numbers alone, so no formula was used to attempt to score or rank these programs. Instead, they represent our top picks based on a thoughtful review of the things we know mean the most to students. Each one of these programs offers something unique, and all come equally highly recommended. We stand behind the principal of editorial integrity and make these recommendations independently and without compensation.