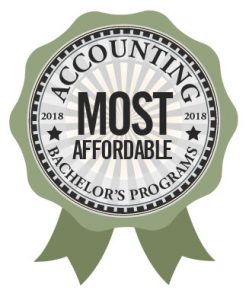 If you've got the kind of steely analytical mind for a career in accounting, then one of the first questions you're going to have when looking at undergraduate programs will be, 'What does it cost?'
That's an answer that's easy enough to find. Schools publish their tuition rates and you can compare the cost per credit with the program curriculum to figure out almost to the dollar what the total cost of program tuition will be. Plug in a few estimates for books and other supplies and you're done.
But cost is only part of the equation. If you really want to save money, you can find some online degree program that some guy is running out of his garage for $100 a credit and cruise through it in three years.
Good luck getting into a respectable master's degree program with that transcript, though… and even better luck trying to qualify to take the CPA Exam, let alone pass it.
What you really want is an inexpensive bachelor's degree that also offers an effective education. You want the best courses you can get for the least amount of money… an efficient program, one that is as effective as it is affordable.
You're in luck, because we have built just the list for you here: the most affordable public and private bachelor's programs in accounting in every state… and every last one of them offering a great education with proven results.
<!- mfunc feat_school ->
How We Built The List
Because you have that detail-oriented accounting personality, you also want to know exactly how we went about putting this list of most effective, affordable schools together.
We started off with the ne plus ultra of metrics for evaluating accounting schools: the percentage of graduates who took the Uniform CPA Exam and passed it first try.
The first time pass rate on the CPA Exam is a prime indicator of the quality of the education offered at those schools—you don't get through that four-part, sixteen-hour exam on your first attempt without someone drilling the content into you and making sure you understand it.
We tossed out every school that scored below the national average of 50 percent.
This gave us a good list of solid performers to look at. We took that list, calculated the average cost per credit based on semester hours, and then separated it into public and private schools.
Then we took the most affordable public school and the most affordable private school from each of those lists and drilled down on the programs to give you the details you'll find below.
In the end, what you have here are the lowest cost accounting bachelor's programs with a track record for producing graduates with first-time CPA exam pass rates that beat the national average.
Because even the most numbers-oriented student needs to consider other factors when making their decision, we pulled out the highlights of each program to give you all the important features you need to know about, including that all-important first-time pass rate.
The Best-Priced Public and Private Accounting Schools in Every State
There are no listings for New Mexico at this time.