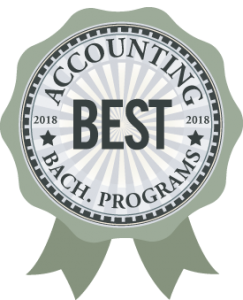 At its core, accounting is about the concrete… the quantifiable. But all too often even accounting students give too much attention to subjective noise when trying to get a feel for the quality of one degree program versus another. We all know better than to give weight to anything that can't be represented in numbers, especially with something as major as where you're going to spend tens of thousands of dollars and the next four years of your life.
Numbers simply don't lie, and that's part of what we like so much about this field. The good news is we have some numbers to help you make a sound decision you can feel good about, instead of one based on something as intangible as name recognition, or worse, giving into that in-your-face marketing campaign that's been following you around the internet since the first time you typed 'accounting program' in Google.
The fact is, if your plans include CPA licensure, there actually is an answer to the question 'which accounting program is best?' – and you better believe that answer comes down to a number.
We went straight to NASBA — the authority —  to get to the bottom of which accounting undergrad programs are doing the best job of turning out grads primed and ready for the Uniform CPA exam.
<!- mfunc feat_school ->
How Do You Quantify "The Best?"
It's not as tricky as you might think. We took a look at the most recent data coming from NASBA and considered just one rock-solid metric… the one data point that any would-be CPA would agree is the only thing that really counts at this stage of the game— CPA Exam first time pass rate. It's a zero sum game as far as we're concerned, so we're talking all four sections on the first attempt. This vital piece of information is elegantly represented as a single number —  the percentage of the total graduating class that took and passed the exam for the most recent year data is available.
Of course, you're going to need some grad level courses under your belt to round out your education and get that full 150 credits required to get your CPA, but every grad student was once an undergrad, and those first four years are an absolutely crucial component for success on the exam. NASBA knows this, and went to the trouble of tracking pass rates all the way back to the undergrad programs examinees completed, publishing their findings— both good and bad — exclusively in the NASBA Report on the CPA Exam, University Edition.
In 2016, a total of 78,178 candidates passed all four sections of the Uniform CPA Exam on their first try. That's a pretty big number, but it only represented about 54% of the total candidates that attempted it. Any school turning out a graduating class of exam candidates that passes on their first try at a rate north of this number is doing something right.
To make sure our list of top programs really means something to students looking at the options in their area, we identified the one school with the top performing graduating class in each state. And when we found more than one program turning out exam candidates passing the exam on their first go at better than 80%, we just couldn't resist including those as honorable mentions.
At the end of the day, we know there's more than just the exam pass rate to consider when selecting a program, so we took it one step further by identifying key features every student needs to know, answering the other big questions like, 'is it delivered online?', 'does it include an internship?', 'what kind of career services does the school provide?', and, of course, 'what does it cost?'.
<!- mfunc search_btn -> <!- /mfunc search_btn ->
The Very Best Bachelor's Programs in Accounting By State
So here you have it. Click on your state and find the best of the best in your area, complete with cost per credit and plenty of other important details.
This list features programs that our editorial staff hand selected to present as top recommendations. We believe the many aspects of a program that come together to create an exceptional student experience can't be reduced to numbers alone, so no formula was used to attempt to score or rank these programs. Instead, they represent our top picks based on a thoughtful review of the things we know mean the most to students. Each one of these programs offers something unique, and all come equally highly recommended. We stand behind the principal of editorial integrity and make these recommendations independently and without compensation.