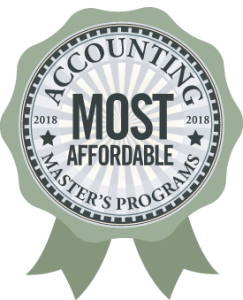 If you're shooting for a CPA, you're probably looking at getting your master's degree at some point. As you surely know by now, a CPA license requires at least 150 semester hours of education with the right blend of advanced accounting and business coursework. In a lot of states, you'll need to get this squared away even before they'll even let you take the test. Since the average bachelor's degree only gets you to 120 hours, those extra 30 have to come from somewhere, and for most would-be CPAs it's a master's program that gets it done.
Master's degree programs in accounting are expensive, though—according to the National Center for Education Statistics, the average master's program costs more than $19,000 per year.
It's a good investment, but you also want to know what the return is on that investment. Obviously, the greater the cost of the degree, the more likely it is you'll have to take out loans, the more interest will pile up, the longer it will take you to really start making money on it. A lot of numbers to think about.
<!- mfunc search_btn -> <!- /mfunc search_btn ->
So because you're the kind of person that knows how to run those numbers and apply them to big decisions in your life, you probably are interested in knowing where you can get the best bang for your buck in accounting master's degree programs. Not just the cheapest, but the best affordable options.
You're not the first aspiring CPA to wrestle with that concern, and you'll be glad to know that someone has already done the heavy lifting of pulling the info together to make it easy for you to find the best most affordable options out there.
<!- mfunc feat_school ->
How We Selected The Schools
Nobody's interested in a list of the cheapest schools. We're all interested in real value, which means a quality assessment has to come before taking a look at the price tag. We went straight to the most important criteria for any prospective accounting master's candidate: the percentage of program graduates who took the Uniform CPA exam and passed it on their first try. Of course a single number can't tell the whole story of what kind of educational experience you'll get, but any CPA would agree that when you look at that number, you do get a look at the things that are most important about the program in a nutshell.
The bottom line is that a program that's able to turn out graduates that clear the exam hurdle on their first try at a rate that is better than the national average is doing its job. And if it's able to offer a reasonable tuition rate, there's no question that it offers a good value. Every single program on this list fits that description. 
As a comprehensive, 4-part, 16-hour examination on every aspect of certified public accounting, the UCPA puts you through your paces. With nearly 300 questions and 28 task-based simulation problems, there's no room for guessing or estimation: you either know the material cold or you don't. And if you know it to the extent it takes to pass the whole thing on the first try, then that means your professors did a very good job preparing you for the material.
If a school is routinely sending more than half of its students out to nail the UCPA on the first try, it's not a fluke. They're doing something right, and they are worthy of your consideration.
So we took the schools in each state, both public and private, that achieve a first-time pass rate better than the national average and then worked out their cost per credit hour in a semester hour system. That gave us an apples-to-apples point of comparison.
The resulting top performers in each category, public and private, made the grade.
Then we went one better. We checked out each of those programs and wrote up the other unique features and important benefits they offer beyond just being cost-effective. We tell you who offers paid internships, who has an interesting curriculum, who has the best job placement assistance, who gives you options to study abroad, and a whole lot more.
The Best-Priced Public and Private Accounting Master's Programs by State
Here you have it. With this list, you can pick not only the most objectively affordable and effective program, but also the one that is the best fit for you.
There are no listings for Alaska at this time.
There are no listings for Maryland at this time.